Recipes for Trout

Click here for additional recipes.
Pecan-Crusted Trout

Crusty, nutty trout fillets with a buttery, citrusy pan sauce—tres increible!
1 cup pecans
ó cup all-purpose flour
1 egg, lightly beaten
4 (6-ounce) trout fillets
2 tablespoons olive oil
2 tablespoons butter
ó cup chopped shallot
1 teaspoon lemon zest
ó teaspoon dried thyme
ó teaspoon dried rosemary
. cup dry white wine
. cup heavy cream
. cup orange juice
Sea salt and black pepper, to taste
1)   Grind pecans in a food processor until coarse. Transfer to a medium bowl; add flour and mix.

2)   Place egg in a separate medium bowl.

3)   Dip each trout fillet in egg, shaking off excess; dip into pecan mixture, turning to coat.

4)   Heat oil in a large skillet over medium. Add trout and cook until golden on both sides, turning once, about 8 minutes total. Remove trout from skillet; place on serving platter.

5)   Add butter to skillet; melt over medium heat. Add shallot, zest, thyme, and rosemary; cook until shallot is softened, about 3 minutes, stirring.

6)   Increase heat to high; add wine and cook until evaporated, scraping up bottom of skillet. When almost dry, add cream and juice to skillet; cook until thickened slightly, stirring, about 2 minutes. Season to taste.

7)   Pour sauce over trout; serve immediately.

Recipe taken from www.troutrecipes.org
---
Grilled Rainbow Trout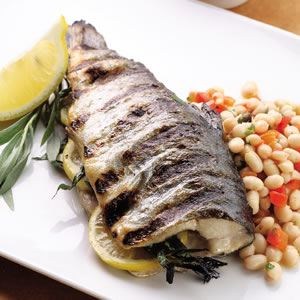 Farmed rainbow trout are an environmentally-friendly (and very economical) ways to enjoy seafood regularly.
¼ cup canola oil, plus additional, for grill
1 tablespoons minced fresh ginger
1 teaspoon grated lime zest
1 teaspoon red pepper flakes
2 tablespoons fresh lime juice
Sea salt and black pepper, to taste
4 (4- to 6-ounce) fillets rainbow trout
1) Heat oil in a medium skillet over medium; add ginger, lime zest, and red pepper. Cook until just browned, about 30 seconds, stirring. Remove from heat; whisk in lime juice. Season to taste. Set aside.


2) Preheat grill to medium; brush gently with oil. Grill trout fillets until fish turns opaque, turning once, about 4 minutes total. Remove trout from grill and arrange on serving platter.

3) Pour lime dressing over trout and serve immediately.