Recipes for Swordfish

Click here for additional recipes.
Grilled Swordfish with Soy Sauce

1-2 tablespoons corn oil
1-4 swordfish steaks, approximately 1 inch thick
Sauce:
2-3 tablespoons corn oil or extra virgin olive oil (we use EVOO)
2-3 teaspoons fresh lemon or fresh lime juice
1/2 or 1 full teaspoon dijon mustard
1 or 2 teaspoons light soy sauce
1/4 teaspoon black pepper
4 slices of lemon for garnish


Minced green onions for garnish



Brush the cooking area of the grill with corn oil. Combine sauce ingredients and set aside. Place steaks on the grill (or place steaks in grill basket on grill). Brush with sauce. Grill over a medium-hot to hot fire for 5 to 7 minutes. Turn and brush with sauce again. Cook an additional 5 to 7 minutes.


* Top with garnish and serve.

* Fish is done when it flakes easily when touched with a fork.
---
GRILLED SWORDFISH WITH LIME BASIL BUERRE BLANC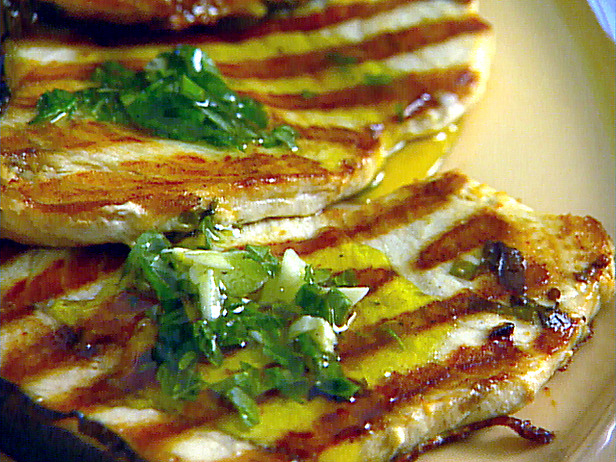 4 (8 oz.) swordfish steaks, cut at 1/2" (shark or tuna will do)
3/4 c. olive oil
3/4 c. lime juice
1 tbsp. minced garlic
1 sprig fresh basil, crushed with the side of a knife
1/2 tsp. coarsely cracked peppercorns
1 tsp. salt

LIME BASIL BUERRE BLANC:
1/2 c. lime juice
1 1/2 c. white wine
3 tbsp. minced garlic
3 tbsp. minced shallots
1 tbsp. cream
6 oz. unsalted butter
4 tbsp. fresh basil, julienned
1.   Combine lime, wine, garlic and shallots in a wide pan and reduce to 1/4 the volume.


2.   Pour into bowl and stir in the cream.


3.   Whisk in the butter, 1 tablespoon at a time, until thoroughly combined. Keep the sauce at about 90-100 degrees while adding butter.


4.   Stir in the fresh basil and hold sauce in a warm place until ready to serve.