Recipes for Shrimp

Click here for additional recipes.
Shrimp Scampi
Do you have a favorite meal for those need-something-quick-and-don't-want-to-have-to-plan-or-work-too-hard days? I like keeping a bag of shrimp in the freezer just for those times. I'll put some frozen shrimp in a bowl of ice water, and if I'm serving them with pasta, by the time the pasta water has come to a boil the shrimp are defrosted enough to cook. Shrimp scampi has to be one of the easiest ways to quickly prepare shrimp. We simply sauté the shrimp with garlic in butter and olive oil, splash it with white wine, let the wine reduce while the shrimp cooks, and then toss it with fresh parsley, lemon juice and black pepper.
Produce
Garlic cloves (3)
Parsley (2 tablespoons)
Seafood
Large (16-20 count) shrimp (1 pound)
Cooking & Baking
Black pepper (1)
Olive oil (2 tablespoons)
Red pepper flakes (1/2 teaspoon)
Salt (1)
Drinks
Lemon juice (1 Tbsp)
Dairy
Butter (2 tablespoons)
Beer, Wine & Liquor
White wine (1/2 cup)
1 Heat a sauté pan on high heat. Reduce the heat to medium-high and add the olive oil and butter. Once the butter melts, foams up and subsides, add the garlic and red pepper flakes. Sauté for a minute, or until you see the edges of some of the garlic just beginning to brown.

2 As soon as the garlic begins to brown, add the shrimp to the pan. Then add the white wine and stir to combine and coat the shrimp with the butter, oil, and wine. Spread the shrimp out in an even layer in the pan. Increase the heat to the highest setting and let the wine boil vigorously for 2-3 minutes.

3 Turn the shrimp over, or toss them so the cooked sides are mostly facing up, and boil the wine for another minute. Remove from the heat, add the parsley and toss to combine. Add the lemon juice and black pepper.

Serve alone, with crusty bread, over pasta, or over rice (for gluten-free version).

Recipe taken from www.simplyrecipes.com
---
Grilled Shrimp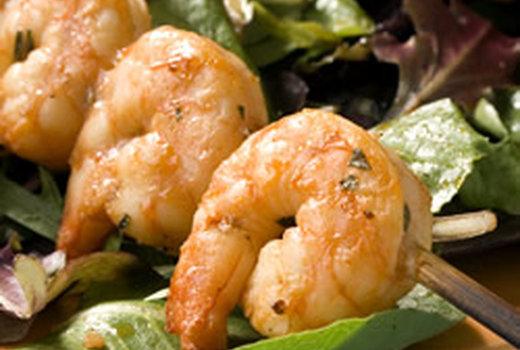 Shrimp is a versatile and tasty seafood. The grilled shrimp recipe on this page take advantage of those qualities, preparing them in a delicious style. There's no better eating than a skewer full of grilled shrimp.
Produce
Basil, fresh (2 tablespoons)
Garlic (3 cloves)
Seafood
Shrimp, fresh (2 pounds)
Cooking & Baking
Cayenne pepper (1/4 teaspoon)
Olive oil (1/3 cup)
Salt (1/2 teaspoon)
Condiments
Tomato sauce (1/4 cup)
Other
Skewers
Beer, Wine & Liquor
Red wine vinegar (2 tablespoons)
1  In a large bowl, stir together the garlic, olive oil, tomato sauce, and red wine vinegar. Season with basil, salt, and cayenne pepper. Add shrimp to the bowl, and stir until evenly coated. Cover, and refrigerate for 30 minutes to 1 hour, stirring once or twice.

2  Preheat grill for medium heat. Thread shrimp onto skewers, piercing once near the tail and once near the head. Discard marinade.

3  Lightly oil grill grate. Cook shrimp on preheated grill for 2 to 3 minutes per side, or until opaque.

Recipe taken from www.allrecipes.com