Recipes for Haddock

Click here for additional recipes.
Haddock Bubbly Bake

Produce
Onion (1)
Seafood
2 pounds of white haddock fillets (1)
Cooking & Baking
Cream of Mushroom Soup (1 can)
Dairy
Grated mozzarella or cheddar cheese (1 cup)
1  Lay haddock fillets in bottom of glass oven proof dish. Cover with sliced onions.

2  Spread can of cream of mushroom soup over all.

3 Lastly, spread grated cheese over it all.

4 Bake in preheated 350 oven for about 40 minutes until fish is done. (You'll be able to tell it's done when fish separates into flakes easily.)

Recipe taken from www.cooks.com
---
Baked Haddock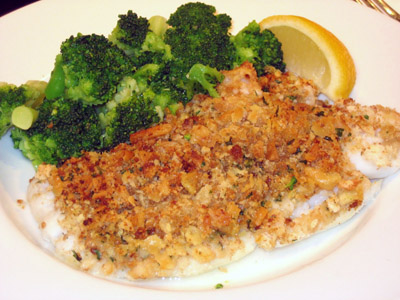 This no-fail, simple recipe will be a hit every time, even with NO FISH eaters! Add a little crushed garlic to crumb mix if you have garlic lovers!
Seafood
Haddock, cut into 4 pieces (1 1/2 pounds)
Cooking & Baking
Oil (1/2 c.)
Garlic power (1/4 teaspoon)
Snacks
Ritz crackers (1 sleeve)
Drinks
Lemon juice (2 tablespoons)
Dairy
Butter (1/2 c.)
Parmersan cheese (1/4 c.)
1 Place haddock in greased pan. Melt butter and mix with oil. Add crumbs and mix well. Add cheese and garlic. Spoon over fish.

2 Bake at 350 degrees for 25 to 30 minutes.

Recipe taken from www.cooks.com