Recipes for Scallops

Click here for additional recipes.
Pan-Seared Scallops with Bacon and Spinach

Scallops are simple to prepare, and with a screaming hot skillet, you get a gorgeous crust without having to bread the shellfish. Serve with a multigrain baguette and a glass of wine.
Produce
Baby spinach, fresh (12 ounces)
Garlic cloves (6)
Lemon (4)
Onion (1 cup)
Seafood
1 1/2 pounds jumbo sea scallops, jumbo (12)
Meat
Center-cut bacon, slices (3)
Cooking & Baking
Black pepper (1/4 teaspoon)
Other
1/4 teaspoon plus 1/8 teaspoon kosher salt, divided
1  Cook bacon in a large cast-iron skillet over medium-high heat until crisp. Remove bacon from pan, reserving 1 tablespoon drippings in pan; coarsely chop and set bacon aside. Increase heat to high.

2  Pat scallops dry with paper towels. Sprinkle scallops evenly with 1/4 teaspoon salt and 1/8 teaspoon pepper. Add scallops to drippings in pan; cook 2 1/2 minutes on each side or until done. Transfer to a plate; keep warm. Reduce heat to medium-high. Add onion and garlic to pan; sauté 3 minutes, stirring frequently. Add half of spinach; cook 1 minute, stirring frequently. Add remaining half of spinach; cook 2 minutes or just until wilted, stirring frequently. Remove from heat; stir in remaining 1/8 teaspoon salt and remaining 1/8 teaspoon pepper. Divide spinach mixture among 4 plates; top each serving evenly with crumbled bacon and 3 scallops. Serve immediately with lemon wedges, if desired.

Recipe taken from www.myrecipes.com
---
Broiled Scallops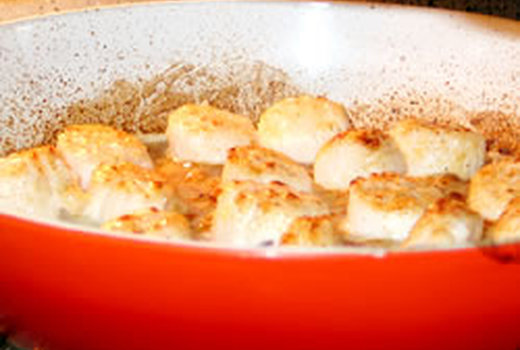 The nice thing about scallops is that you can use the simplest cooking method and still have a great dinner. You can have this broiled scallops dinner ready in less than 20 minutes. So make sure you have your side dishes almost ready, so you can serve these as soon as they come out of the broiler. The only planning ahead you need to do is if using frozen scallops, have them thawed ahead of time. Frozen scallops need to thaw in the refrigerator for about 24 hours.
Seafood
Bay scallops (1 1/2 pounds)
Cooking & Baking
Garlic salt (1 tablespoon)
Drinks
Lemon juice (2 tablespoons)
Dairy
Butter (2 tablespoons)
1 Turn broiler on. 

2 Rinse scallop and place in a shallow baking pan. Sprinkle with garlic salt, melted butter or margarine and lemon juice.

3 Broil 6 to 8 minutes or until scallops start to turn golden. Remove from oven and serve with extra melted butter or margarine on the side for dipping.

Recipe taken from www.allrecipes.com