Recipes for Lobster Meat

Click here for additional recipes.
How to Boil Lobster

Boiling is one of the simplest ways to cook a lobster, and is probably best for the squeamish that don't wish to cut up a live lobster with a knife. Some say that you can 'hypnotize' a lobster by rubbing the top of its head or its abdomen, thereby pacifying it before boiling. The theory is that the adrenaline produced by a frightened lobster adversely affects the texture and flavor of the meat. I have never seen or tasted any evidence of this, but if you want to cover all possible bases, go ahead and hypnotize your lobster. 
Seafood
Live lobsters (1)
Bread & Baked Goods
Bread (1)
Dairy
Butter (1)
Other
A large pot of salted water
First consider the size of your pot for boiling the lobsters. An 8-quart pot will easily take one lobster, a 16-quart pot, 2 or 3 lobsters. If you are cooking a lot of lobsters you'll either need to cook them in stages or have more than one pot of water boiling.

1  Fill a large pot 3/4 full of water. Add 2 Tbsp of salt for every quart of water. The water should be salty like sea water (in fact you can use clean sea water if you have it). Bring the water to a rapid boil.

2  Grasp the lobster by the body and lower it upside down and head first into the boiling water. Continue to add the live lobsters to the pot in this manner. Cover the pot.

3 Note the time at which the water comes to a boil again. From that point, boil the lobsters for 12-20 minutes or longer, depending on the size of the lobster. 12-15 minutes for 1 lb lobster, 15-20 minutes for a 1 1/2 pound lobster, 20-25 minutes for a 2-3 pound lobster. The lobsters should be a bright vivid red color when done.

4 Remove the lobsters from the pot with tongs and place on a plate to drain and cool.

Recipe taken from www.simplyrecipes.com
---
Baked Stuffed Lobster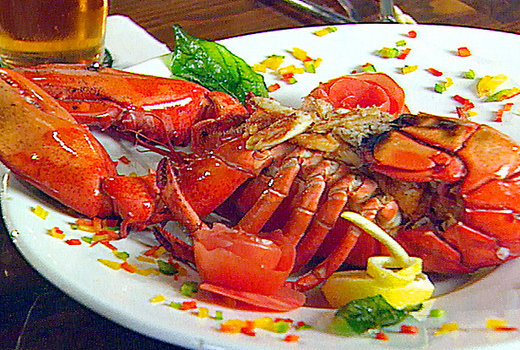 Seafood
(1 to 1 1/4 pound) lobster (1)
Crabmeat, fresh (1 ounce)
Haddock (3 ounces)
Lobster meat (1 ounce)
Maine shrimp, whole (6)
Scallops (2)
Seafood stuffing (1)
Cooking & Baking
Salt and freshly ground black pepper (1)
Drinks
Lemon juice (1 tablespoon)
Dairy
Butter (1 tablespoon)
Beer, Wine & Liqour
White wine (1)
1 Preheat the oven to 450 degrees F.

2 Place a little water in a large pot and bring to a boil.

3 Cut open the lobster by inserting your knife just underneath the head and the cutting down, splitting the belly (body and tail). Remove the "inners" (heart, guts, etc., but not meat). Steam the lobster for 7 to 10 minutes and then remove from the pot.

4 Stuff the Seafood Stuffing in the lobster's opening and top with the crabmeat.

5 Place the stuffed lobster, belly-side-up in a roasting pan. Add the lemon juice and a little water to the bottom of the pan to keep the lobster moist while cooking. Bake for 7 to 10 minutes, or just until the claws begin to split. Do not allow the lobster to dry out.

6 In a medium saucepan over medium heat, melt butter and then add all the seafood and saute until tender, about 3 to 5 minutes. Remove from heat and allow to cool.

7 Mix in the crackers, and add lemon juice, wine, and salt and pepper, to taste.

Recipe taken from www.foodnetwork.com