Recipes for Red Snappers

Click here for additional recipes.
Grilled Red Snapper with Tropical Fruit Salsa

Produce
Ginger, fresh (1 teaspoon)
Limes (2)
Tropical fruit salsa (1 1/4 cups)
Seafood
(8-ounce) red snapper, fillets (4)
Cooking & Baking
Black pepper, coarse ground (1 teaspoon)
Olive oil, extra-virgin (3 tablespoons)
1  Preheat a grill.

2  Place the red snapper fillets in a shallow dish and reserve. In a small bowl, combine lime juice, ginger, pepper, and olive oil. Pour the mixture over the fish and let sit for 15 minutes.

3 Grill the fish over medium heat until the flesh is cooked through and opaque, about 4 minutes per side, depending on the size of the fish. Top with tropical fruit salsa and serve.

Recipe taken from www.foodnetwork.com
---
Sauteed Red Snapper Fillets with Fennel and Orange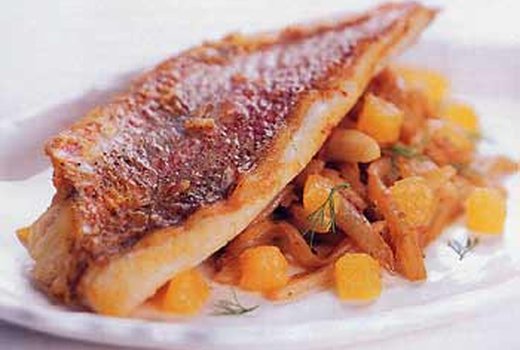 The fresh flavors of fennel and orange make this simple fish dish shine. You can serve it alone or with a helping of rice.
Produce
Fennel bulb, large (1)
Navel orange (1)
Cooking & Baking
Fennel seed (1/2 teaspoon)
Olive oil (2 1/2 tablespoons)
Seafood
(6-oz) red snapper, fillets (2)
Drinks
Lemon juice, fresh (1 teaspoon)
1 Cut peel and white pith from orange with a sharp knife, then cut sections free from membranes. Squeeze 1 to 2 tablespoons juice from membranes before discarding and reserve. Cut sections into 1/4-inch dice and reserve separately.


2 Quarter fennel bulb lengthwise and cut out and discard core. Cut quarters lengthwise into 3/4-inch-thick slices.


3 Heat 1 1/2 tablespoons oil in a heavy skillet over moderately high heat until hot but not smoking, then sauté fennel with fennel seed and salt and pepper to taste, stirring, until edges are browned and fennel is wilted, about 10 minutes. Cook fennel over moderately low heat, covered, stirring occasionally, until tender, about 8 minutes more. Stir in reserved orange juice.


4 While fennel cooks, pat fish dry and season with salt and pepper. Heat remaining tablespoon oil in a 9- to 10-inch nonstick skillet over moderately high heat until just starting to smoke, then sauté fish, skin sides down, until skins are golden, about 3 minutes. Turn fish over and sauté until just cooked through, about 3 minutes more.

5 Sprinkle fish with lemon juice and serve, skin sides up, on top of fennel and orange dice.


Recipe taken from www.epicurious.com